Week Two
Today is Day 12 of the 105-day 2019 legislative session.
Many legislators, staff and fellow lobbyists are complaining about the fast pace with which this session began. An example would be the number of bills introduced. As of today, 1,361 bills have been introduced: 674 in the House and 687 in the Senate. Of these the Farm Bureau is tracking 151, which is right on average for us during session.
The highlight of our week was Tuesday's hearing on HB 1398. This bill would create a new series of state fees for farmers who use the H-2A worker program. The bill was requested by the Employment Security Department and approved by the governor's office. Given that the only people to testify for the bill along with the department were labor activists make this bill look like nothing more than political posturing and an attempt by labor activists to make the H-2A program unworkable.
As we have mentioned before, there is no better voice for agriculture than a real farmer. At Tuesday's hearing we had three farmers from different parts of the state travel to Olympia in inclement weather to tell their individual stories to the House Labor & Workplace Standards Committee.
We would like to thank Rosella Mosby, Richard Callahan and Megan Dickey for their persuasive testimony. We truly believe it made all the difference. With their help, and support from the many Farm Bureau members who signed in against the bill on the legislative website, and called and wrote their legislators, this bill has stalled in the House. Your help made all the difference!
Sadly, the battle is not yet over. We believe that the Senate version of this bill, SB 5438, will receive its own public hearing in early February. Don't let up! Please call your local senator and tell them that this bill is anti-agriculture and overall bad policy.
On a positive note, Gov. Inslee's rural broadband bill was officially dropped and is scheduled for public hearing on January 30. This piece of legislation would provide funding for broadband access to unserved and underserved communities. The Farm Bureau has identified rural broadband as one of top priorities for this session. We are pleased with the compromise that went into this language as both Republicans, Democrats, the Governor, and public and private businesses all came to the table to create this bill. To read the bill yourself, click
here
. (HB 1498 and SB 5511)
And one more positive thing to share with you. Bailey Peters, our new public relations staff person, made her debut at the Legislature this week by serving on a panel discussing the importance of funding our state fairs. You can watch her testimony by clicking
here
. I don't want to ruin the story, but Bailey claims she was born in a barn (at her county fair), but you'll have to watch the video to get the whole story.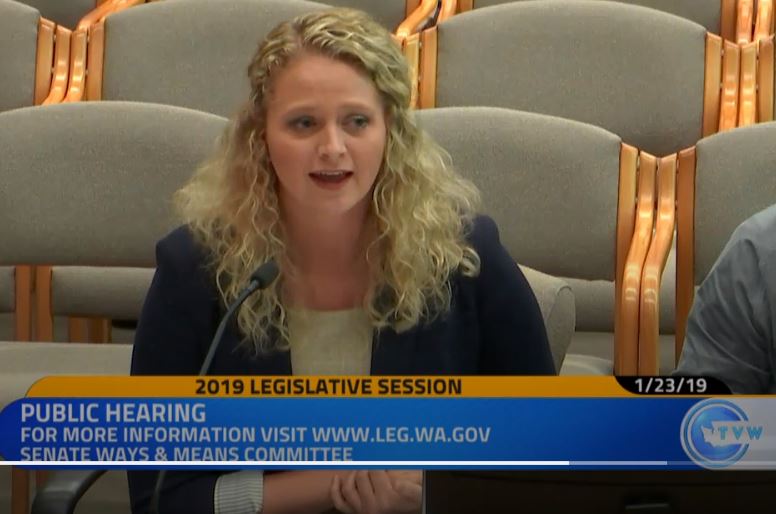 WFB Bill Tracking Bill Status & Upcoming Hearings
Upcoming Hearings
Environment & Energy (House) – HHR B, JLOB – 1/28 @ 1:30pm
HB 1194 – Public Hearing – Preventing toxic pollution that affects public health or the environment. (Continuation from Public Hearing on 1/24/2019.) (Concerns/Monitoring)
Civil Rights & Judiciary (House) – HHR A, JLOB – 1/29 @ 10:00am
HB 1288 – Public Hearing – Concerning department of natural resources' land acquisitions. (Support/Medium)
HB 1315 – Public Hearing – Concerning concealed pistol license training requirements. (Oppose/Medium)
Environment, Energy & Technology (Senate) – SHR 1, JACB – 1/29 @ 10:00am
SB 5579 – Public Hearing – Concerning the volatility of crude oil received in the state by rail. (Oppose/Medium)
SB 5578 – Public Hearing – Reducing threats to southern resident killer whales by improving the safety of oil transportation. (Oppose/Medium)
Housing, Community Development & Veterans (House) – HHR E, JLOB – 1/29 @ 10:00am
HB 1137 – Exec Session – Concerning national guard pay in state active service for wildland fire response duty. (Neutral/Monitoring)
Rural Development, Agriculture, & Natural Resources (House) – HHR B, JLOB – 1/29 @ 10:00am
HB 1579 – Public Hearing – Implementing recommendations of the southern resident killer whale task force related to increasing chinook abundance. (If measure is referred to committee.) (Oppose/High)
HB 1580 – Public Hearing – Concerning the protection of southern resident orca whales from vessels. (If measure is referred to committee.) (Neutral/Monitoring)
HB 1165 – Exec Session – Encouraging low-water landscaping practices as a drought alleviation tool. (Neutral/Monitoring)
Agriculture, Water, Natural Resources & Parks (Senate) – SHR 3, JACB – 1/29 @ 1:30pm
SB 5136 – Public Hearing – Establishing the water infrastructure program. (Neutral/Monitoring)
SB 5349 – Public Hearing – Concerning products identified as milk. (Neutral/Monitoring)
SB 5447 – Public Hearing – Extending the dairy milk assessment fee to June 30, 2025. (Support/Medium)
SB 5276 – Public Hearing – Authorizing hemp production in conformance with the agriculture improvement act of 2018. (Hearing on the proposed substitute). (Neutral/Monitoring)
Rural Development, Agriculture, & Natural Resources (House) – HHR B, JLOB – 1/30 @ 8:00am
HB 1334 – Public Hearing – Concerning electric utility wildland fire prevention. (Neutral/Monitoring)
HB 1188 – Exec Session – Concerning rangeland fire protection associations. (Support/Medium)
Innovation, Technology & Economic Development (House) – HHR C, JLOB – 1/30 @ 8:30am
HB 1498 – Public Hearing – Expanding affordable, resilient broadband service to enable economic development, public safety, health care, and education in Washington's communities. (If measure is referred to committee.) (Support/High)
Transportation (Senate) – SHR 1, JACB – 1/30 @ 3:30pm
SB 5255 – Public Hearing – Prohibiting road usage charges in rural counties. (Neutral/Monitoring)
Local Government (Senate) – SHR 3, JACB – 1/31 @ 8:00am
SB 5453 – Public Hearing – Concerning the administration of irrigation districts. (Support/Medium)
Agriculture, Water, Natural Resources & Parks (Senate) – SHR 3, JACB – 1/31 @ 1:30pm
SB 5320 – Exec Session – Establishing a nonlethal program within the department of fish and wildlife for the purpose of training dogs. (Support/Medium)
SB 5447 – Exec Session – Extending the dairy milk assessment fee to June 30, 2025. (Support/Medium)
SB 5330 – Public Hearing – Analyzing state regulatory impact on small forest landowners. (Support/Medium)
SB 5305 – Public Hearing – Concerning electric utility wildland fire prevention. (Neutral/Monitoring)
Transportation (House) – HHR B, JLOB – 1/31 @ 3:30pm
HB 1160 – Public Hearing – Making transportation appropriations for the 2019-2021 fiscal biennium. (Neutral/Low)
Civil Rights & Judiciary (House) – HHR A, JLOB – 2/1 @ 10:00am
HB 1319 – Public Hearing – Expanding local government authority to regulate firearms. (Neutral/Monitoring)
Rural Development, Agriculture, & Natural Resources (House) – HHR B, JLOB – 2/1 @ 10:00am
HB 1429 – Public Hearing – Extending the dairy milk assessment fee to June 30, 2025. (Support/Medium)
HB 1187 – Exec Session – Revising hydraulic project eligibility standards under RCW 77.55.181 for conservation district-sponsored fish habitat enhancement projects. (Neutral/Monitoring)
---
High Priority Bills
| | | | | | |
| --- | --- | --- | --- | --- | --- |
| Bill # | Abbrev. Title | Short Description | Status | Sponsor | Position |
| | Gray wolves/lethal removal | Prohibiting the lethal removal of gray wolves. | H RDev, Ag&NR | Appleton | Oppose |
| | Hunting with the aid of dogs | Prohibiting hunting with the aid of dogs for certain purposes. | H RDev, Ag&NR | Appleton | Oppose |
| | High capacity magazines | Concerning high capacity magazines. | H Civil R & Judi | Valdez | Oppose |
| | Capital gains tax/prop. tax | Assisting Washington families by improving the fairness of the state's tax system by enacting a capital gains tax and providing property tax relief. | H Finance | Santos | Oppose |
| | H-2A agricultural program | Concerning the H-2A temporary agricultural program. | H Labor & Workpl | Dolan | Oppose |
| | Broadband service | Expanding affordable, resilient broadband service to enable economic development, public safety, health care, and education in Washington's communities. | H Inn, Tech & E | Hudgins | Support |
| | DFW dog training, nonlethal | Establishing a department of fish and wildlife directed nonlethal program for the purpose of training dogs. | H RDev, Ag&NR | Blake | Support |
| | Chinook abundance | Implementing recommendations of the southern resident killer whale task force related to increasing chinook abundance. | H RDev, Ag&NR | Fitzgibbon | Oppose |
| | State estate tax, repealing | Repealing the state estate tax. | H Finance | Young | Support |
| | Drought preparedness | Concerning drought preparedness and response. | H RDev, Ag&NR | Blake | Concerns |
| | Cougar control pilot program | Concerning a pilot program for cougar control. | S Ag/Water/Natur | Sheldon | Support |
| | Revenue | Increasing revenues for the support of state government. Gov's Cap Gains | S Ways & Means | Rolfes | Oppose |
| | Fish barrier removal funding | Increased REET and vehicle weight fees | S Transportation | Rolfes | Oppose |
| | Toxic pollution | Preventing toxic pollution that affects public health or the environment. | S Environment, E | Rolfes | Oppose |
| | Critical area designation | Clarifying what science may be used by cities and counties to designate critical areas. | S Local Governme | Short | Support |
| | Capital gains tax/prop. tax | Assisting Washington families by improving the fairness of the state's tax system by enacting a capital gains tax and providing property tax relief. | S Ways & Means | Wellman | Oppose |
| | Assault weapons ban | Banning the sale of assault weapons and large capacity magazines. | S Law & Justice | Kuderer | Oppose |
| | H-2A agricultural program | Concerning the H-2A temporary agricultural program. | S Labor & Commer | McCoy | Oppose |
| | Hydraulic projects | Concerning the definition of hydraulic project in relation to the hydraulic project approval permits. | S Ag/Water/Natura | King | Support |
| | Broadband service | Expanding affordable, resilient broadband service to enable economic development, public safety, health care, and education in Washington's communities. | S Environment, E | Wellman | Support |
| | Orca whales/habitat & fish | Implementing recommendations of the southern resident killer whale task force related to increasing habitat and forage fish abundance. | S Ag/Water/Natur | Rolfes | Oppose |
| | Elk fencing pilot project | Establishing a pilot project to test elk fencing. | S Ag/Water/Natura | Wagoner | Support |
Medium Priority Bills
| | | | | | |
| --- | --- | --- | --- | --- | --- |
| Bill # | Abbrev. Title | Short Description | Status | Sponsor | Position |
| | Horse slaughter | Concerning the slaughter of horses and other equines for human consumption. | H Public Safety | Appleton | Oppose |
| | Undetectable firearms | Addressing undetectable firearms. | H Civil R & Judi | Valdez | Oppose |
| | Rangeland fire associations | Concerning rangeland fire protection associations. | H RDev, Ag&NR | Dent | Support |
| | Domestic violence/law enf. | Establishing policies and requirements regarding law enforcement response to domestic violence incidents to enhance the safety of domestic violence victims, families, and officers. | H Civil R & Judi | Jinkins | Oppose |
| | Agricultural fair funding | Ensuring the funding of agricultural fairs. | H Approps | Dent | Support |
| | Natural areas | Regarding establishing natural areas. | H Cap Budget | Griffey | Support |
| | DNR land acquisitions | Concerning department of natural resources' land acquisitions. | H Civil R & Judi | MacEwen | Support |
| | Concealed pistol training | Concerning concealed pistol license training requirements. | H Civil R & Judi | Lovick | Oppose |
| | Conservation district coop. | Concerning cooperation between conservation districts. | H Local Govt | Ramos | Support |
| | Dairy milk assessment fee | Extending the dairy milk assessment fee to June 30, 2025. | H RDev, Ag&NR | Shewmake | Support |
| | Concealed firearm permission | Requiring permission to bring a concealed firearm into another person's residence or dwelling place. | H Civil R & Judi | Doglio | Oppose |
| | Tax preferences/mass timber | Extending the tax preferences in RCW 82.04.260(12). | H RDev, Ag&NR | Chapman | Support |
| | Employee scheduling | Concerning employer and employee scheduling. | H Labor & Workpl | Macri | Concerns |
| | Industrial ins. wage loss | Concerning industrial insurance wage loss. | H Labor & Workpl | Sells | Concerns |
| | Climate science education | Improving climate science education. | H Education | Dolan | Oppose |
| | Fruits and vegetables access | Increasing access to fruits and vegetables for individuals with limited incomes. | H H Svcs & Erly | Riccelli | Support |
| | Greenhouse gas/fossil fuels | Incorporating comprehensive measurements of greenhouse gas emissions from certain fossil fuels into state environmental laws. | H Env & Energy | Pollet | Oppose |
| | Cultivation of shellfish | Ensuring the safe and productive cultivation of shellfish. | H Env & Energy | Blake | Support |
| | State-federal gov agreements | Reporting agreements between state agencies and the federal government. | H State Govt & Tr | Young | Support |
| | Undetectable firearms | Addressing undetectable firearms. | S Rules 2 | Dhingra | Oppose |
| | High capacity magazines | Concerning high capacity magazines. | S Rules 2 | Kuderer | Oppose |
| | DNR land acquisitions | Concerning department of natural resources' land acquisitions. | S Ag/Water/Natura | Sheldon | Support |
| | Natural areas | Regarding establishing natural areas. | S Ag/Water/Natura | Sheldon | Support |
| | Domestic violence/firearms | Concerning the authorized removal, safe keeping, and return of firearms and ammunition by law enforcement during and after domestic violence incidents. | S Rules 2 | Dhingra | Oppose |
| | Concealed pistol training | Concerning concealed pistol license training requirements. | S Rules 2 | Palumbo | Oppose |
| | Rural county economic dev. | Concerning the economic development of rural counties. | S Local Governme | Short | Support |
| | Growth mngmt board standing | Concerning standing before the growth management hearings board. | S Local Governme | Short | Support |
| | GMA/agricultural land | Encouraging the success of agriculture on agricultural land. | S Local Governme | Zeiger | Support |
| | DFW dog training, nonlethal | Establishing a nonlethal program within the department of fish and wildlife for the purpose of training dogs. | S Ag/Water/Natur | Takko | Support |
| | Small forest landowners | Analyzing state regulatory impact on small forest landowners. | S Ag/Water/Natur | Braun | Support |
| | Walla Walla watershed pilot | Concerning the Walla Walla watershed management pilot program. | S Ag/Water/Natur | Walsh | Support |
| | Owner compensation/wells | Promoting just compensation for certain property owners who are prevented from using permit-exempt wells. | S Ag/Water/Natur | Wagoner | Support |
| | Dairy milk assessment fee | Extending the dairy milk assessment fee to June 30, 2025. | S Ag/Water/Natura | Van De Wege | Support |
| | Irrigation district admin. | Concerning the administration of irrigation districts. | S Local Governmen | Takko | Support |
| | Environmental justice | Establishing a healthy environment for all by creating a definition of environmental justice, directing agencies to address environmental health disparities, and creating a task force. | S Environment, E | Salda?a | Oppose |
| | Whitetail deer population | Concerning whitetail deer population estimates. | S Ag/Water/Natura | Short | Support |
| | Productive farmland | Retaining productive farmland. | S Ag/Water/Natur | Takko | Support |
| | Fish habitat projects | Revising hydraulic project eligibility standards under RCW 77.55.181 for conservation district-sponsored fish habitat enhancement projects. | S Ag/Water/Natura | Honeyford | Support |
| | Oil transportation safety | Reducing threats to southern resident killer whales by improving the safety of oil transportation. | S Environment, E | Van De Wege | Oppose |
| | Crude oil volatility/rail | Concerning the volatility of crude oil received in the state by rail. | S Environment, E | Billig | Oppose |
| | Fruits and vegetables access | Increasing access to fruits and vegetables for individuals with limited incomes. | S Human Svcs, Re | Wilson | Support |
| | Conservation district coop. | Concerning cooperation between conservation districts. | S Local Governmen | Takko | Support |
| | Local taxes/employment | Prohibiting local taxes based on employee wages, employee hours, or the number of employment positions. | S Local Governmen | Schoesler | Support |
| | Aerial pesticide application | Creating a work group on aerial pesticide applications in forestlands. | S Ag/Water/Natur | Rolfes | Oppose |
| | B&O manufacturing tax rate | Lowering the ceiling of the business and occupation manufacturing tax rate to 0.2904 percent. | S Ways & Means | Ericksen | Support |
| | Cultivation of shellfish | Ensuring the safe and productive cultivation of shellfish. | S Ag/Water/Natura | Takko | Support |
Low Priority Bills
| | | | | | |
| --- | --- | --- | --- | --- | --- |
| Bill # | Abbrev. Title | Short Description | Status | Sponsor | Position |
| | Transportation budget 19-21 | Making transportation appropriations for the 2019-2021 fiscal biennium. | H Trans | Fey | Neutral |
| | New state in E. Washington | Petitioning for the creation of a new state in eastern Washington. | H State Govt & Tr | Shea | Neutral |
| | Orca whales/vessels | Concerning the protection of southern resident orca whales from vessels. | S Ag/Water/Natur | Rolfes | Neutral |
Monitoring Bills
| | | | | | |
| --- | --- | --- | --- | --- | --- |
| Bill # | Abbrev. Title | Short Description | Status | Sponsor | Position |
| | Walla Walla watershed pilot | Concerning the Walla Walla watershed management pilot program. | H RDev, Ag&NR | Jenkin | Neutral |
| | Environmental impact process | Concerning processes and criteria for the consideration of environmental impacts under certain environmental laws. | H Env & Energy | Walsh | Neutral |
| | Agency rule-making authority | Concerning agency rule-making authority. | H State Govt & T | Walsh | Neutral |
| | Commercial fishing access | Expanding access to commercial fishing opportunities. | H RDev, Ag&NR | Blake | Neutral |
| | Supp. operating budget 17-19 | Making 2017-2019 biennium second supplemental operating appropriations. | H Approps | Ormsby | Neutral |
| | Operating budget 2019-2021 | Making 2019-2021 biennium operating appropriations. | H Approps | Ormsby | Neutral |
| | Nat guard pay/wildland fires | Concerning national guard pay in state active service for wildland fire response duty. | H Hous, Com Dev | Leavitt | Neutral |
| | Chehalis basin financing | Concerning the financing of Chehalis basin flood damage reduction and habitat restoration projects. | H Cap Budget | DeBolt | Neutral |
| | Supp. transportation budget | Making 2017-2019 supplemental transportation appropriations. | H Trans | Fey | Neutral |
| | Low-water landscaping | Encouraging low-water landscaping practices as a drought alleviation tool. | H RDev, Ag&NR | Orwall | Neutral |
| | Fish habitat projects | Revising hydraulic project eligibility standards under RCW 77.55.181 for conservation district-sponsored fish habitat enhancement projects. | H RDev, Ag&NR | Dent | Neutral |
| | Toxic pollution | Preventing toxic pollution that affects public health or the environment. | H Env & Energy | Doglio | Concerns |
| | Plastic bags | Reducing pollution from plastic bags by establishing minimum state standards for the use of bags at retail establishments. | H Env & Energy | Peterson | Oppose |
| | Growth mgmt/sup court review | Granting local governments the authority to make challenges related to growth management planning subject to direct review in superior court. | H Env & Energy | Shea | Neutral |
| | Growth mgmt act, repeal of | Repealing growth management planning requirements in chapter 36.70A RCW. | H Env & Energy | Shea | Neutral |
| | Firearm open carry/local gov | Expanding local government authority to regulate firearms. | H Civil R & Judi | Wylie | Neutral |
| | Electric util wildland fires | Concerning electric utility wildland fire prevention. | H RDev, Ag&NR | Blake | Neutral |
| | Hemp production | Concerning hemp production. | H Commerce & Gam | Shea | Neutral |
| | Streambed impacts study | Concerning a comprehensive study of human-caused impacts to streambeds. | H RDev, Ag&NR | Blake | Neutral |
| | Concealed pistol licenses | Clarifying background check requirements for an application for a concealed pistol license. | H Civil R & Judi | Goodman | Neutral |
| | Pistol sales or transfers | Concerning requirements for pistol sales or transfers. | H Civil R & Judi | Goodman | Neutral |
| | New state/Eastern WA | Establishing the new state of Liberty. | H State Govt & Tr | Shea | Neutral |
| | Cell-cultured meat products | Restricting cell-cultured meat products. | H Inn, Tech & Ec | Shea | Oppose |
| | Weapons in certain locations | Restricting possession of weapons in certain locations. | H Civil R & Judi | Davis | Neutral |
| | Oil transportation safety | Reducing threats to southern resident killer whales by improving the safety of oil transportation. | H Env & Energy | Lekanoff | Support |
| | Orca whales/vessels | Concerning the protection of southern resident orca whales from vessels. | H RDev, Ag&NR | Blake | Neutral |
| | Mosquito control districts | Concerning mosquito control districts. | H Local Govt | Kraft | Neutral |
| | Wolf population expansion | Ensuring that all Washingtonians share in the benefits of an expanding wolf population. | H RDev, Ag&NR | Kretz | Neutral |
| | Concealed pistol lic holders | Establishing an exemption from background check requirements for firearms sales or transfers between concealed pistol license holders. | H Civil R & Judi | Sutherland | Neutral |
| | Protected lands/fire levies | Concerning protected lands not being assessed local fire district levies. | S Rules 2 | Rolfes | Neutral |
| | Animal control/firearms | Allowing animal control officers to carry firearms for personal protection. | S Law & Justice | Van De Wege | Neutral |
| | Fire service mobilization | Modifying the expiration date of certain state fire service mobilization laws. | S State Govt/Tri | Takko | Neutral |
| | Prevailing wage laws | Enhancing the prevailing wage laws to ensure contractor and owner accountability and worker protection. | S Labor & Commer | Salda?a | Concerns |
| | Broadband internet access | Providing access to broadband internet services. | S Environment, E | McCoy | Neutral |
| | Capital budget 2019-2021 | Concerning the capital budget. | S Ways & Means | Frockt | Neutral |
| | Water infrastructure program | Establishing the water infrastructure program. | S Ag/Water/Natura | Honeyford | Neutral |
| | Operating budget 2019-2021 | Making 2019-2021 biennium operating appropriations. | S Ways & Means | Rolfes | Oppose |
| | Supp. operating budget 17-19 | Making 2017-2019 biennium second supplemental operating appropriations. | S Ways & Means | Rolfes | Neutral |
| | Supp. transportation budget | Making 2017-2019 supplemental transportation appropriations. | S Transportation | Hobbs | Neutral |
| | Transportation budget 19-21 | Making transportation appropriations for the 2019-2021 fiscal biennium. | S Transportation | Hobbs | Neutral |
| | Industrial ins. wage loss | Concerning industrial insurance wage loss. | S Labor & Commerc | Keiser | Neutral |
| | Road usage charges/rural | Prohibiting road usage charges in rural counties. | S Transportation | Sheldon | Neutral |
| | Hemp production | Authorizing hemp production in conformance with the agriculture improvement act of 2018. | S Ag/Water/Natur | Ericksen | Neutral |
| | Agricultural fair funding | Ensuring the funding of agricultural fairs. | S Ways & Means | Warnick | Neutral |
| | Energy efficiency | Concerning energy efficiency. | S Environment, E | Carlyle | Neutral |
| | Electric util wildland fires | Concerning electric utility wildland fire prevention. | S Ag/Water/Natur | Van De Wege | Neutral |
| | Electric utilities/climate | Concerning claims about climate change made by electric utilities. | S Environment, En | Ericksen | Neutral |
| | Products identified as milk | Concerning products identified as milk. | S Ag/Water/Natura | Ericksen | Neutral |
| | Rest and meal periods | Concerning rest and meal periods. | S Labor & Commer | Conway | Neutral |
| | Fish habitat projects | Expanding the definition of fish habitat enhancement projects. | S Ag/Water/Natur | Rolfes | Support |
| | Hydrofluorocarbon emissions | Reducing greenhouse gas emissions from hydrofluorocarbons. | S Environment, E | Mullet | Neutral |
| | Immigrants in the workplace | Establishing a statewide policy supporting Washington state's economy and immigrants' role in the workplace. | S Law & Justice | Wellman | Neutral |
| | Mosquito control districts | Concerning mosquito control districts. | S Local Governmen | Cleveland | Neutral |
| | GMA/agency obligations | Concerning agency obligations. | S Local Governme | Short | Neutral |
| | Family & med. leave/coverage | Concerning family and medical leave program coverage. | S Labor & Commer | Braun | Neutral |
| | Projects of statewide signif | Concerning the designation and support of projects of statewide significance. | S State Govt/Tri | Braun | Neutral |
| | Marbled murrelet strategy | Concerning the proposed department of natural resources' marbled murrelet long-term conservation strategy. | S Ag/Water/Natur | Van De Wege | Neutral |
| | Pesticide application safety | Implementing the recommendations of the pesticide application safety work group. | S Labor & Commer | Salda?a | Neutral |
| | Native pollinators | Concerning the protection of native pollinators, including bees. | S Ag/Water/Natur | Liias | Neutral |
| | Greenhouse emissions eval. | Directing the department of ecology to adopt a rule governing the evaluation of greenhouse gas emissions under chapter 43.21C RCW. | S Environment, E | Takko | Neutral |
| | Climate science education | Improving climate science education. | S EL/K-12 | Wilson | Neutral |
| | Drought preparedness | Concerning drought preparedness and response. | | Takko | Concerns |
| | Biochar | Supporting the continued research, development, production, and application of biochar from our forests and agricultural lands. | S Ag/Water/Natur | Short | Neutral |